Is your child asking for a skateboard?
Kids get to do some physical activity which is important when they grow up. It strengthens their muscles and improves motor skills. Kids watch too much TV and play games too often these days. Some exercise that's fun and spending some time outside is great. It takes a lot of balance and is rather technical and a good way to make new friends.
It's a great way for them to bond with friends, stay active, and learn a new skill. They feel confident and capable when they're able to master new tricks on their skateboard.
Don't worry, though! This guide will help you with all the essential information you need to choose the best skateboard for beginners. This guide also contains valuable knowledge about what tricks are suitable for a certain type of skateboard.
I will provide you with common questions and answers around the right skateboards for a newbie too.
The right size - We've sized our decks specifically for younger skaters to make them easier to balance and maneuver Kids can learn to skate more safely and are able to advance their skills more quickly on properly sized skateboards.
The right material - Bamboo offers light weight, durability, and board "pop" all while being sustainable and environmentally friendly. It is a great choice for the skater and a great choice for the planet.
1. Choosing a Suitable Deck
Since you are new skateboarding or just picking it up again after not skating for a long time, I highly recommend you purchase a fully assembled skateboard.
This will help you get used to the skateboard easier without going through the whole process of putting all the parts together.
You would need to know the basics of a skateboard to choose a suitable skateboard for yourself.
Deck size based on age
Choosing the right deck is your priority. There are forests of decks and different brands to choose from.
You should look at the deck size mainly and compare it with your current age and shoe size.
For young beginners, roughly speaking between 3-8 years old, my favorite age groups to start learning about skateboarding. They are likely wearing shoes from 3-6 inches and can easily learn with a micro or mini skateboard (6-7 inches width).

For teens and adolescents, who are around 9-18 years old, they will do fine with a mid-size deck of 7.3 inches since their physical body has developed stronger muscles to have more control, and they can learn some basic tricks.

For adults who are 18 years old and above, this group will do just fine on a full-size deck. The width is usually around 7.5 inches or larger since this will match their shoe size of 9 inches and up.
In my personal experience, the width size plays a part in the whole picture.
Deck types for different tricks and purposes:
– Mini skateboard: this type of deck is the best skateboards for kids. The standard length is around 22 inches x 6-7 inches. They are extremely lightweight and easy to control for all the beginner tricks such as flips and ollies. Though this type is mostly for children to learn about balance and cruising first, teens use them for some beginner practicing too.
– Full-size skateboard: this type of deck is mainly for teens (over 9 years old) and adults who are either professionals or beginners. As your body mass develops, you should choose this type in order to support more weight.
2. Picking a Reliable Truck
What is the best truck for beginners? The answer still depends on what you intend to do with the skateboard. It is quite hard to check for the truck materials; therefore, I can only suggest you check the obvious: the truck profile. When you are browsing for a skateboard, remember to check the description that matches your needs like below:
Low profile: The manufacturer designs the truck for small wheels. The advantage of low trucks is that they provide extra stability and better control for you. The wheels are closer to the deck and gain more stability; flip tricks and ledge grinding are easier to perform. It is highly recommended that you go with 48-53mm wheels.
Middle profile: Park and street skateboarding is more favorable with this type of truck profile. This type is the jack of all trades since it is suitable for most skateboards. Beginners are likely to pick this one as you have a flexible option and access to essential tricks.
High profile: This truck profile is perfect for large wheels, don't worry; I will explain further in section 4. The high trucks favor carving and cruising streets. Hence, you will see this profile coexist with longboards or cruisers. The high profile is more efficient for pivoting and steering. It enhances mobility and reduces the impacts from rough surfaces, helping you gain more control and directions.
3. Looking for Reliable Bearings
Bearings are the round metal pieces that connect your wheels and the metal axle of the truck. Their primary function is to reduce friction between the wheels while they spin on the truck's axle.
Steel bearings vs. ceramic bearings
Steel bearings are highly durable and likely cost you less. For most beginner skaters, steel bearings work fine. Since different brands design their own type of bearings, it would be complicated and difficult for you to check. So, if you have to pick between two metal bearings, pick the more expensive one. Simply, the more it costs, the better the quality.
Unfortunately, certain metal bearings can malfunction due to energy. When the axle and the wheels rub together, they create this huge friction energy that potentially renders your bearings useless. The rule of thumb is to keep your bearings clean, lubricated, and dry. They will thank you a lot and likely to last longer.
When it comes to ceramic bearings, they are more effective in reducing friction energy. Ceramic bearings are smoother and more resilient than their steel counterparts. They remain solid and able to take more frictions without becoming deformed.
Therefore, the manufacturers will likely charge a premium price for such high-performance bearings. The professional skaters are likely to pick this one for the competitive advantage and extended period of time usage.
The ABEC ratings
Just for a quick tip, a beginner can do well with an ABEC-5 plus. This level is economical and highly functional for standard usage and tricks performance. If you would like to read in details, here is the range:
ABEC 1-3 bearings tend to be cheap and low-quality. They suit those who have a tight budget. However, they don't run smoothly or precisely. They likely to create lots of friction, thus become useless faster and inefficient for the skater.

ABEC 5-7 bearings are standard for most types of skateboards. They usually a great starting point for beginners. The bearings help your wheels run smoothly and more responsively as you push.

ABEC 9+ bearings high-speed fast and have superior precision. Professionals like these as they give the best control and speed during competition. You will be charged a premium price for sure!
Our Beginner Complete comes ready-to-skate out of the box and includes the following components:
Each Complete consists of 1 Skateboard Deck, 1 Sheet Grip Tape, 2 Trucks, 8 Bearings, 4 Wheels, Assembly Hardware.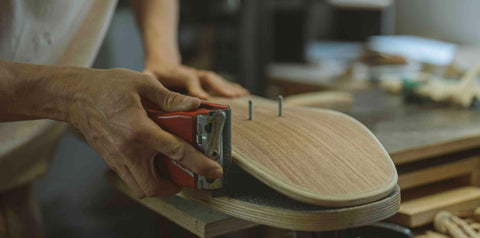 All orders are professionally built by hand and are ready-to-skate out of the box!
---